Practitioner Recommended Supplements
For the convenience of our patients, HealingSpace Medical Center uses Fullscript which allows you to order supplements online and have them shipped directly to your home.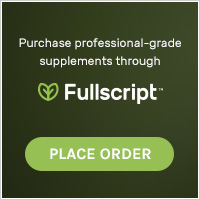 Fullscript is a smart, intuitive way to access the highest-quality supplements to meet your wellness goals--from anywhere. We use it to recommend supplements virtually to patients, like you! Recommendations from our practitioners are sent to your preferred device, and supplements are shipped right to your front door. Plus, getting started is completely free!
Fullscript offers exceptional convenience, but that's not all:
Professional-grade supplements
World-class customer support
Optional auto-ship and refill reminders
Fast, convenient shipping
---
Essential Oils
Essential Oils are naturally occuring, volatile liquids distilled from plants. These oils embody the regenrative, oxygenation, and immune-strengthening properties of the plants. This makes them powerful wellness agents that are capable of offering therapeutic effects and benefits, in addition to providing a pleasant fragrance.
---
Meditations by Dr. Marilyn Mitchell (CD)
By practicing a simple meditation daily, we open ourselves up to our inner wisdom and our natural intuitive abilities.
Amazon: Click here to purchase
Apple Music: Click here to purchase
Google Play: Click here to purchase
---
The True Nature of Healing by Marilyn Mitchell, M.D. (Book)
Dr. Mitchell's book, The True Nature of Healing, explores the personal exeriences that opened her connection to Energy Healing and led her to dedicate her life's work to bringing a worldwide focus to the benefits.
We intuitively know that there is more to health and well being than medicine alone can provide. We long for better health and contentment. In The True Nature of Healing, you will discover a guide to your inner resource of vitality and healing that can be use even when facing serious illness. Learn from Dr. Mitchell as she shares her personal journey, and her patients who have prevailed in serious medical conditions.
The True Nature of Healing is available for purchase from both Amazon and Barnes & Noble in paperback and as an e-book. Paperback copies are also available for purchase at HealingSpace Medical Center.
---
Non-Toxic Skin Care and Makeup
We are often concerned with what we put in our bodies, but we also should be aware of what we put on our bodies. Beautycounter's mission is to create skin care and beauty products that truly perform while holding themselves to unparalleled standards of safety. There are over 1,800 harmful or questionable chemicals that Beautycounter never includes in their product formulations. Make the switch to non-toxic skin care today!